More than just Advice.
We act as entrepreneurial Partner.
Whether M&A or financing process - reaching the goal requires intensive preparation, the planning for the best route and the flexibility to adjust the course if necessary to pass by obstacles.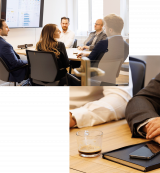 For entrepreneurs selling their company, this is supposedly the deal of their life. In contrast, recurring acquisitions and disposals of companies are part of the daily business for private equity firms and large corporations/groups.
And yet the similarities prevail: the desire for security and a clear time horizon to achieve the individual goals in the best possible way.
To ensure this, is our mission.
In a transaction process, we see ourselves as independent advisor and companion, supporting our clients where they are lacking essentials: the required specific knowledge and/or sufficient resources.
That is why we temporarily become a full member of our client's team. By being an entrepreneurial partner, with the same goal, we contribute to the success.
With expertise and diligence, we identify and assess both potentials as well as risks timely in advance of a transaction.

We incorporate our findings and conclusions into the individual process design and transaction documentation in order to address critical aspects proactively.

As a result, we deliver optimal, often unexpected, courses of action from which our clients choose the best.
We do not always make things easy for our clients. And that is precisely what we are appreciated for.
Because we don't always choose the easiest path, but get to the bottom of the crucial issues. Whether it's analyzing the details or communicating openly with our clients, we always strive for maximum transparency in order to be able to make the best recommendations and determine the right path to the right goal together with our client.
And although the name of our company is inspired by the Argonaut saga, we are not ancient heroes, we do not sail to sea and we are not in search of the golden fleece. We do, however, combine the various individual strengths of our experienced team, accompany you on your voyage and ultimately find the best result. Even though many roads may lead to the goal - we want you to take the best one with us.
Welcome on board!